Sara Seck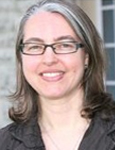 Associate Professor, Faculty of Law
B.Mus. (Memorial), M.Mus. (Memorial), LL.B. (Toronto), Ph.D. (Osgood Hall Law School)
sseck@uwo.ca
519-661-2111 ext 85167
Research Interests / Specializations:  Corporate social responsibility, international sustainable development law, climate change, and third world approaches to international law
Sara Seck is an assistant professor in Law, with a teaching focus on corporate social responsibility, environmental law and public international law.   Her research and teaching explore the role of lawyers in advising companies on how to prevent and remedy the environmental and social impacts of their business, including violations of human rights, by developing an understanding of international legal norms, especially for companies entering countries recovering from conflict.
Her interest is in international and transitional legal theory, and her research explores the international legal processes to understand international relations.  One important area of this work is Third World Approaches to International (TWAIL) which creates an understanding of the needs of the developing world.
For more information, visit her
faculty page
.