Global Summit to End Sexual Violence in Conflict
Global Summit to End Sexual Violence in Conflict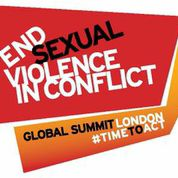 Professor Valerie Oosterveld recently returned from the June 10-13 Global Summit to End Sexual Violence in Conflict in London, United Kingdom. This Global Summit was co-hosted by the UK Foreign Secretary William Hague and Special Envoy for the UN High Commissioner for Refugees, Angelina Jolie. It was the largest gathering ever brought together on the subject of sexual violence in war - with 1,700 expert delegates and 129 country delegations including 79 senior state officials such as US Secretary of State John Kerry and Canada's Minister of Foreign Affairs, John Baird – and was the crowning achievement of the two-year long, UK-led Preventing Sexual Violence Initiative.
Professor Oosterveld served as an expert at the Global Summit, among other academics, faith leaders, youth delegates, representatives of local nongovernmental organizations working in conflict areas, individuals from international nongovernmental organizations and key actors in the United Nations (such as the Special Representative of the Secretary-General for Sexual Violence in Conflict, Zainab Hawa Bangura). Professor Oosterveld also organized and chaired an extremely well-attended event highlighting the lessons learned by the Special Court for Sierra Leone – an international criminal tribunal -on the prosecution of sexual violence. There were 95 people crammed into a room seating 60 to hear from the Special Court's former chief Prosecutors Brenda Hollis and Stephen Rapp (now US Ambassador-at-Large for War Crimes Issues), Registrar Binta Mansaray, Justices Teresa Doherty and Shireen Fisher and defence counsel Wayne Jordash QC.
The International Protocol on the Documentation and Investigation of Sexual Violence in Conflict  was launched at the Global Summit. This document aims to provide basic standards of best practice on the documentation of sexual violence as a crime under international law and is meant to assist international and domestic investigators in undertaking gender-sensitive information collection and witness protection. Professor Oosterveld was involved in commenting on a draft of the Protocol's Evidence Workbook.
The Global Summit led to a number of key outcomes, apart from the Protocol: a Statement of Action, specific government commitments, the launch of the UN's "Guidance Note of the Secretary-General: Reparations for Conflict-Affected Sexual Violence" and many partnerships for future action.