Sharon Sliwinski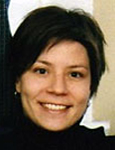 Associate Professor, Faculty of Information and Media Studies
M.A., Ph.D. (York)
ssliwins@uwo.ca
519-661-2111 ext 88473
Research Interests:  Visual culture (especially photography studies); human rights; social and political thought; psychoanalysis.

Sharon Sliwinski is an associate professor in the Faculty of Media and Information Studies.  Her research ranges across a number of topics, from the intersection of politics and aesthetics, to the genealogy of key concepts in human rights discourse, to more theoretical investigations in psychoanalysis and the terrain of the imaginary.  Sliwinski's book, Human Rights in Camera (Chicago, 2011) traces the visual constitution of human rights from the eighteenth century through the aftermath of World War II.  She is currently working on a project about the politics of dream-life and has a forthcoming book called, Dream Matters: Six Exercises in political Thought (University of Minnesota Press, 2016).
For more information, visit her faculty page.