Joanna Quinn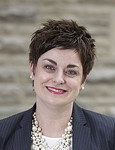 Associate Professor, Department of Political Science
B.A. (Waterloo), M.A. (Acadia), Ph.D. (McMaster)
jquinn2@uwo.ca
519-661-2111 ext 85172
Research Interests / Specializations:  Traditional justice practices in Uganda, Fiji; truth commissions in Uganda, Haiti
Joanna Quinn is the Founding Director of the Centre for Transitional Justice and Post-Conflict Reconstruction (TJ Centre), and an associate professor in the Department of Political Science, teaching courses such as Transitional Justice and Genocide.

Quinn's research considers how societies acknowledge and cope with past crime.  Her early research focused on understanding the failures of truth commissions in Uganda and Haiti, as well as other truth commissions in places like South Africa, Guatemala, and Chile.  More recently, Quinn research has looked at the utility of customary law in achieving justice in post-conflict situations.   She has worked in Uganda and Fiji, and another comparative project looks at Vanuatu and the Solomon Islands, and the interrelation between customary and other forms of law in these communities.

For more information, visit her faculty page.