Jim Freedman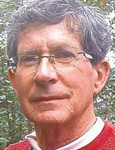 Professor Emeritus, Department of Anthropology
B.A. (Johns Hopkins), Ph.D. (Princeton)
freedman@uwo.ca
519-661-3430, SSC or 519-645-0346
Research Interests / Specializations:  Governance and poverty reduction in conflict-affected and fragile environments
Jim Freedman taught development studies and anthroplogy at Western University until 2000 when he left the University to manage his consulting firm. As a member of the University and as principal of the firm he has carried out research on development issues, complex emergencies, the economics of war, the role of corporate responsibility in conflict reduction and international legal remedies for conflict. Presently, he maintains an affiliation with the University as Emeritus Professor while researching and publishing, as well as consulting with international organizations, corporate enterprises and governments. He has published six of his own books and five others as an editor in collaboration with others. These books range from innovations in development theory, to African history, to social audits for mining corporations and diverse fiction and non-fiction.  He has worked in over 25 different countries.
He has examined the tranistion from conflict to political stability from four critical angles: (i) mechanisms for regulating trade that fuels conflict; (ii) more efficient approaches to removing explosive remnants of war; (iii) programmes to address marginalization of rural populations by improving the capacity of sub-national units to deliver public services; and (iv) prosecution of warloards and others guilty of war crimes through international tribunals, notably the International Criminal Court.
In the past year, he has recently completed or been engaged in the following:
Strengthening the justice system in Iraq with better support to Legal Aid services as well as to family courts at provincial levels
Diffusing discontent in the Solomon Islands by increasing the capacity of provincial governments to deliver public services as well as by encouring the central government to support this process of governance devolution
Completion of a book - Dubious Conviction - chronicling the fits and starts, successes and failures of the first trial at the International Criminal Court: Prosecutor v. Thomas Lubanga Dyilo
For more information, visit his website.