Adam Harmes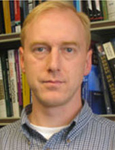 Associate Professor, Department of Political Science
B.SCc. (Ottawa), M.A. (Ottawa), Ph.D. (York)
aharmes@uwo.ca
519-661-2111 ext 85173
Research Interests / Specializations:  International political economy, global finance, global economic governance
Adam Harmes is an associate professor in the department of political science whose teaching focuses on international relations, political economy, business and government. His research interests include international relations, fiscal federalism, environmental politics and policy and global governance.

Harmes' former role as Officer Commanding, Airborne Operations, in the Canadian military provides him with practical knowledge of global governance and international relations. His dual expertise in both practical military and academia, provides him with a well-rounded and fully informed teaching and research perspective.  During his time in the military, Harmes focused on state building in areas of post-conflict, coup d'état. His military background dealt mainly with conflict between North and South—underdeveloped and developing states against developed states—to solve issues of failing states.

For more information, visit his faculty page.